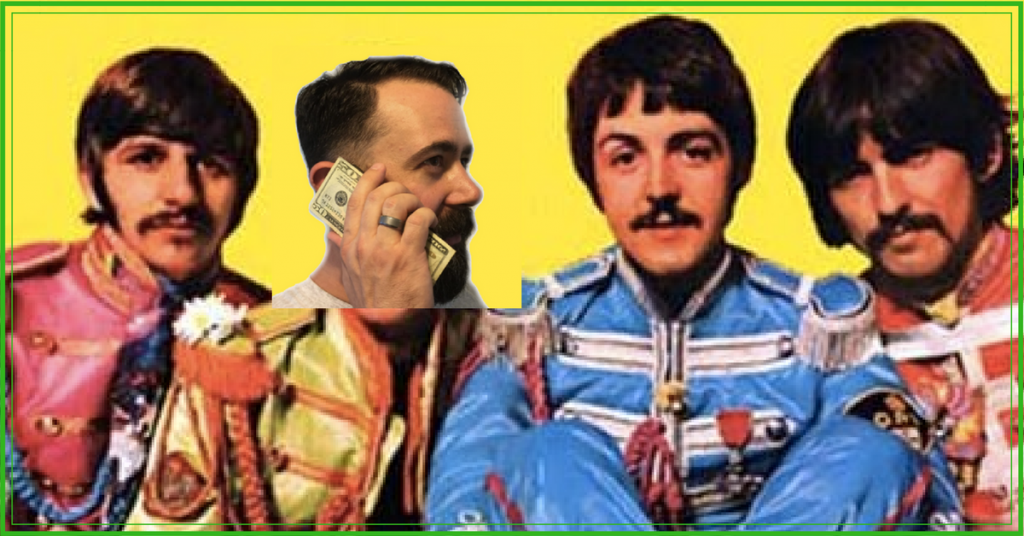 So there was this band called The Beatles.
They were incredible.
They had an album called Sgt. Pepper's Lonely Hearts Club Band.
There's a song on that album called Fixing a Hole.
Last week I watched a documentary about the making of the album.
When they got to the song Fixing a Hole a lyric jumped out at me.
It's a line I've heard 500 times but never thought much of.
I'm taking the time for a number of things
That weren't important yesterday
Mind. Blown.
It really got me thinking.
There are so many things that are important to me today that weren't important to me yesterday.
And I'm taking the time to pay more attention to these things.
I'm not getting younger. My health will be an uphill battle from here on out. I don't have any issues really, I'm just not 20 anymore, I have to actually put in effort just to "maintain". I can't completely ignore my health and feel fine anymore. You know what I mean. Maybe.
I've got TWO little girls now. This fact alone adds a million things to my life that weren't important yesterday.
We do things like pay taxes and get in bed at 9. Both of which used to be on the bottom of my list and now they are at the very top! haha!
I've got grown up shit to deal with now. The old days are gone forever. I miss my carefree teens and twenties. And my 30's are mostly behind me now too. I'm not saying I don't like my life now. I love it. It's possible to both miss who you used to be and love who you are now. It's possible to miss your younger days and be thankful they are behind you at the same time. That's where I'm at.
Glad it happened, glad it's over. Now what?
I guess it's my two girls that have me thinking about what's important today more and more.
It's not just me anymore.
It's not just me and Carrie anymore.
I wouldn't want it any other way.
It's been my experience that I'm always a little behind my own life.
Let me try to explain that…
It blows my mind that The Original Baby Beebs is already 3 years old and Baby Beebs Number Two is 3 months old.
I feel like the past 3 years took about 6 months. So if it feels like 6 months and it was really 3 years I must be 2.5 years "behind". Right? See what I mean?
Life is full of a lot of looking up every year or so and finding yourself somewhere you don't recognize and thinking, "What happened?" It's not a bad thing. It's just how life goes. It's like your life goes first and you catch up later.
I think, even with all the forward thinking and planning in the world, we all live life slightly behind the curve. We are always processing what just happened. Making sense of the past. You think you are still on the right path, the path you planned. But then you look up, look around, and you are here your actual life is over there. Again, this isn't a bad thing. You just need to see it and adjust. Catch up with where your life is now. And that requires ditching things that are no longer working and replacing them with new things.
I didn't fight these grown up things from infiltrating my life on purpose. I suppose I could have been more forward thinking and maybe it should have been more obvious. I could have reacted quicker. But when life is happening so fast it's not always easy to keep up with all the changes. Perhaps from now on I'll re-evaluate my life more often and make changes sooner.
Oh, did I mention that Carrie and I both started our own businesses? You want to add more chaos to your life? START A BUSINESS! ha!!! (I mentioned paying taxes right?)
Conclusion(s)
It feels amazing to let go of old things that used to be important. And making space for new things that weren't important yesterday adds another layer of awesome to life. It's like a cool breeze of fresh air.
Take away the old, bring in the new!
You can CHOOSE what is and what isn't important to you today.
Then you can CHOOSE to invest the right amount of time and energy on those things.
Your life will largely reflect these choices. And not just once, but over and over and over. As often as you like or is necessary.
You are the one who chooses what's important. It's not as easy as it sounds. Don't beat yourself up if you suddenly realize you should have made some changes years ago. I've heard it said that life gives you the test first and then teaches you the lesson afterwards. I mean, how are you supposed to know about these things until after they happen?
It's okay to be slightly behind the curve. But once you've realized changes need to be made, it's not okay to not respond. You can try to ignore what you know needs to change but it will only make things harder. (Just ask your health or your money.)
It's okay to drop things that used to be important and leave them behind forever.
I'll leave it to you to apply this little lesson to your money or any other area of life.
Here's a little nudge… What used to be important that isn't anymore and what is important that used to not be? Can you let go of those old things and focus on something new?
Okay fine, here's an "example answer"… (Couldn't help myself!)
Used to be important = Going out 3x a week.
Important now = Budgeting my money.
Good talk.