My review of Republic Wireless after a year of happiness and huge cell phone savings.
I can only imagine how hard my old cell phone company must have been laughing when they sent emails like this one…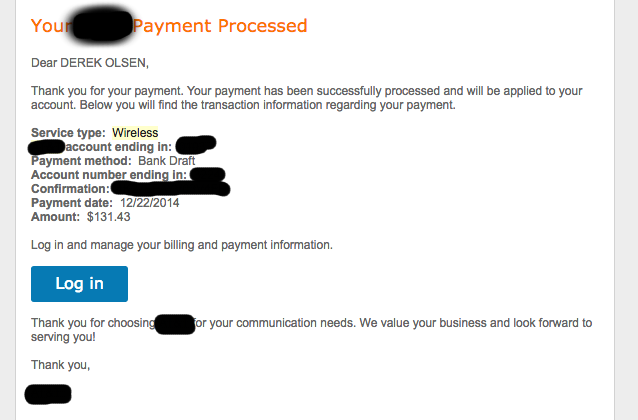 $131.43!!!!!!!!!!! WTF?!
I love the "Thank you" at the bottom. Yeah right, you're welcome.
In all fairness, my bill wasn't this ridiculous every month. It bounced around between the $70s and the $130s. I think at this point I was paying for all kinds of extras that I wasn't even using. (Which just makes it worse!)
It takes me 5 months to spend that much now with my new cell phone plan.
I used to be cool
I was a hard core iPhone fan. Or at least I thought I was.
When I switched from my ancient flip phone to the iPhone 4 it blew my mind. I remember walking home with Carrie saying, "Wow! It's like a tiny computer!" I had no idea how far smart phones had come back in 2010.
I was in love with my iPhone and was willing to pay any cost to keep it. I thought being an iPhone fan was the coolest thing. What a joke. Who cares? As long as the phone and the network meet my needs it does't matter who I'm using.
Republic Wireless to the rescue!
Two years ago I went to FinCon in New Orleans. I roomed with Jay Money from Budgets Are Sexy. (I can not disclose any of the shenanigans that we may or may not have gotten into on Bourbon Street.)
I noticed his cell phone and asked him about it. He went on and on about how he loved his phone and loved Republic Wireless.
I asked J about the quality of the phone and the service. He told me it was solid, but then he said something that really caught my attention…
We've been calling each other and texting all week, has it worked well from your end?
Yeah, it had been working just fine. Not that I didn't take his word for it, but this was solid proof that his phone did indeed work just fine from my end, calling and texting back and forth.
I looked at the Republic Wireless website but was still skeptical.
A few months later Carrie and I were in the middle of our epic 7 month road trip around the Western United States. I still had my iPone with AT&T and my coverage was great. Carrie was on T-"someone" and her coverage was CRAP. I think she even broke her contract and switched to AT&T in the middle of our trip. Her phone was almost worthless.
We parked our travel trailer in front of Mr. Money Mustaches' house for a night. (Am I the only personal finance blogger who uses my real name?)
He had the same phone J$ had!
I told him about how Carrie's cell phone was worthless and mine was fine but expensive. He told me all about Republic Wireless and how great it was. He even told me that he had compared the coverage between his phone and another phone during a trip they went on. (Don't remember what the other phone was.) Anyway, he said his phone on Republic Wireless was BETTER, not just the same…. better.
I was tired of paying a fortune for my cell phone.
I was convinced. (It only took a year to get the hint.)
I switched.
It's been over a year now that I've been on RW. I can't remember if my contract with my old provider was finally up or if I broke my contract to switch. Either way, doesn't matter, I've saved more than enough money to make up for canceling my contract if that's what I did.
How Republic Wireless works
The phones and the plans are WiFi based. But yes they work just fine using a cell tower, let me explain…
The idea is to push as much of your phones activity through whatever WiFi is available. WiFi is everywhere. Especially in the places you use your phone the most. Home, work, coffee shop, restaurant, hotel, airport. I guess the only place wifi isn't really around is in your car but even that's changing. You aren't supposed to be using your phone in your car anyway!
What if there is no wifi? Am I screwed?
Not even close, you are still covered. Like, really, really, well.
I pulled this from the RW website to explain how it works…
Republic Wireless phones work on both WiFi and cellular, depending on the plan you choose. Republic Wireless offers smartphones like any other in all the important ways. When you don't have access to WiFi, everything still works great over the nationwide cellular network. The difference between Republic's smartphones and the ones you'd buy through another carrier is that our phones are optimized to use the WiFi all around you. For example, when you're on WiFi, just dial, and your call is connected through the Internet – fast, clear, and low cost. With our patented Adaptive Coverage™ technology, your phone will seamlessly switch calls between WiFi and cell voice depending on availability without dropping your call. When you're connected to a WiFi signal that isn't as strong, we'll bond both cell and WiFi together for maximum voice quality.
There's even a feature that let's you switch from wifi to cell coverage on the fly. If I call someone using wifi at home and then get in my car and drive away, the phone automatically switches to a cell tower without dropping the call. BOOM! (Yes I've done this several times, yes it works.)
When I'm away from a WiFi option, my phone uses cell towers just like any other phone.
---
I'm a year in and I'm a believer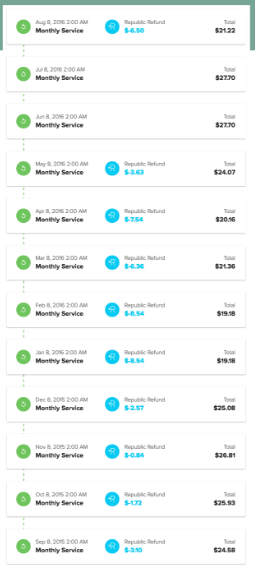 Here's a screen shot of my monthly bills over the past 12 months.
Total for the entire year is $284.07. Again, that's for the ENTIRE YEAR! (How long does it take you to rack up $284? Here's a tissue, it will be okay.)
Average monthly bill is $23.68
My plan: I'm on the base plan ($12.70/mo) plus 1GB Cellular Data ($15/mo).
Here's the cool part, if I don't use all the cell data I get a credit on my bill. (You can see all the credits in the photo of my bill in blue.) UPDATE: I've been told this part of the plan doesn't exist anymore for new customers, I'm in the process of verifying this now. But either way, the plans are super cheap even without the refunds. 
There's only been 2 months when I used all my data and didn't get a credit. Max bill = $27.70
My phone – I have a Moto X 1st generation. In all fairness, I am not a tech nerd and I only use my phone for the basics… calls, text, email, Facebook, takes great pics, Twitter, podcasts, Netflix, YouTube, Amazon, flashlight, etc. My phone has never given me any trouble, I've never had to repair it, have it looked at, or do any trouble shooting.
---
Phones
Here's the phones they offer…
(Payment plans that roll the cost of the phone into your monthly bill are available.)
Click image to learn more about phones.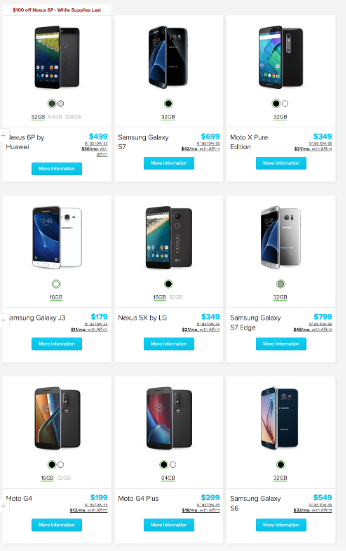 No iPhone. 🙁
(Insert sarcastic remark about paying a fortune for your precious iPhone) Hey, I was there once too. It's okay. 😉
I did receive a free phone from RW because I'm a money blogger and that is one of the ways they spread the word, through blogs like this.Another way they keep costs low is by not spending a fortune on advertising.
I think the phone would have cost $149 had I purchased it. The extra $12/mo would have brought my monthly bill up to a whopping $37/mo had I purchased the phone on the payment plan. I was about to buy the phone anyway and just asked (almost jokingly) if they had any extra phones laying around and they said yes and mailed one to me!
---
Customer service?
I don't know. I've never had to contact RW for anything. I guess that's a good thing! 😉 I've heard the customer service is good from others.
---
Plans
Here's the different plans, click the image to learn more. Hard to believe, right? I was skeptical too. The only way I even believe it is because I've been with them for over a year now. Again, just look at my bill. I'm not even on the cheapest plan.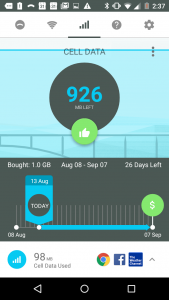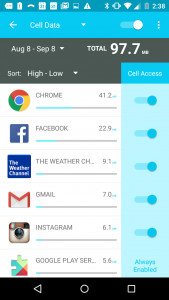 Data usage updates and controls – This is actually one of my favorite features. On the rare month that I do creep up on my 1 GB cell data plan I get a message from RW on my phone (and email) that tells me exactly how much data I've used, how much I have left and how many days until my billing cycle ends. This has been helpful on the rare month that I use lots of cell data.
Check this out… There's a screen that shows you exactly where you are using the most cell data and lets you easily shut off each app individually for cell data usage. Shut off that app and your phone won't all it to use cell tower data. UPDATE: I've been told this feature is also no longer available, I'm verifying this now.
---
But I'm stuck in a 37 year contract!!
Don't get sucked into a 2 year contract because they promise a "free" phone.
What should you do if you are already in a contract and don't want to break it?
This is probably the number one reason people delay switching. I get it. Here's two ideas for you.
Just do it. Suck it up and pay the cancellation fee. You'll make that money up in six months with the savings. (Maybe you can even sell your iPhone and cover the fees?)
Look up when your contract is over and set a reminder on your calendar. If you've got another six months and don't want to cancel, I understand that. Six months goes by pretty fast. Set a reminder and switch when the time is right for you. Either way, just remember that the 2-year contract and the "free" phone is exactly how those other companies screw you.
Risk free (I'm starting to sound like a commercial, but seriously, I love RW!)
Speaking of contracts. You won't find them with Republic Wireless. Don't like it? Cancel anytime! 14 day money back guarantee on all phones.

Okay, I think I've hit it pretty hard. Can you tell I'm a believer? ha!
Sarcasm, facts, my personal history and monthly bills… did I miss anything?
Do the math and the research for yourself.
If you do decide to switch to Republic Wireless I'd appreciate it if you use my affiliate link. Also, I'd love to hear about your experience (good or bad) with Republic Wireless in the comments section below. And post any questions you have too!
Go get 'em tiger!!!
-Derek
---
Every link in this post is my affiliate link. I'll earn a small commission each time someone using my link to switch to Republic Wireless. I never promote products or services that I don't either use myself or strongly believe in. In this case I both use and strongly believe in RW. As I mentioned several times in this post, I've been using RW for over a year and I'm extremely happy with the service. This is the reason why I'm so excited to spread the news about RW.