Tiller had me at, "Your financial transactions in a Google Sheet updated daily."
It was love, true love from the very beginning.
Tiller is a game changer for the everyday household monthly budget.
It's the perfect balance between hands on budgeting and automation.
Here's my top three reasons I use Tiller and you should too!
---
[Sign up for the free budgeting video series mentioned in this post]
---
One: Automation
Tiller works by pulling your banking transactions everyday and putting them into a Google Sheet.
After you set up the spending categories that fit your financial situation, all you do is select a category for each expense and presto! you've got a killer budget.
Setting up the categories and categorizing each transaction is outrageously easy and FAST!
This was a game changer for me.
Before Tiller I was punching in each transaction into my budgeting spreadsheet by hand. It took about 30 minutes and it was kind of a pain.
Tiller takes this part of the process down to less than 5 minutes!!
---
Two: Hands on budgeting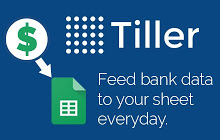 This is the part of all those other budgeting apps and programs that I never liked.
I've tried several of them and the one thing I couldn't stand was how they tried to categorize transactions for me.
It never got it right.
Even when it got most of them right, I would worry about it and have to go back and check all of them anyway. It wasn't the time saver that it promised to be.
But there's another reason why I don't like apps that try to categorize automatically.
Too much automation creates too much separation between you and your money.
A friend of mine had this to say…
We used a spreadsheet to budget for years and then tried one of those programs that basically does it for you. The problem was we stopped looking at it at all! So we switched back to using a spreadsheet because we paid more attention to our money that way.
Bingo.
I always describe a program that budgets for you to having someone else study for a test that you are doing to take. Or letting someone else workout and eat healthy for you.
Doesn't work that way!!!
You have to be hands on with your budget or it won't sink in.
If you don't see and feel the numbers it's impossible to make changes in your everyday life that will help you reach your money goals.
---
Three: Amazing monthly budget templates
I created a custom budgeting spreadsheet using Tiller that I use myself and lot's of others are using too!
Here's what Kristy said about it.
Love love LOVE your TillerHQ sheets!
Thanks Kristy! Glad you love it.
The How Do I Budget template includes everything you need to create an amazing monthly budget.
Monthly budget
Monthly recap (Missing from most monthly budget templates and it's the most important part!!)
Debt snowball
Savings goals worksheet
Net worth tracker
I've noticed that a simple plan is usually best.
Bells and whistles sound good, but most the time they just get in the way and don't really support your goals.
When you sign up for Tiller, select the How Do I Budget template shown below…
---
BONUS! Free video series!
I've created a step-by-step video series that walks you through how to set up your Tiller account and shows you how each part of the budgeting system works.
Tiller is simple enough to just log in a go, but the video series is full of tips and ideas that will help you get the most out of the budgeting spreadsheet.

---
Tiller for the win!
Tiller is perfect for the following people and situations…
Anyone already using a spreadsheet to budget.
Anyone frustrated with those other budgeting programs and looking for a better way to budget.
Anyone who has NEVER worked a budget ever! (Tiller is simple and easy, a GREAT first step for beginners!)
Tiller does cost $5/mo and it's well worth it for the time it saves. (Free 30 day trial and you can cancel anytime!)
Sign up for Tiller now and watch the free video series.
*Actually do this.
Go get 'em Tiger!
-Derek