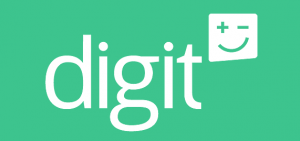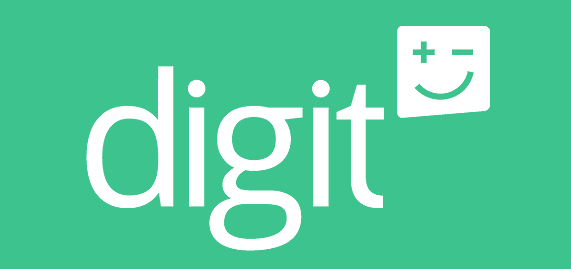 Here's my review of *Digit, the app that allows you to save money without thinking about it.
What is Digit?
Digit is an app that links up to your bank account, studies your spending patterns and then saves money for you automatically every few days.
Signing up
In a nutshell… it was super easy.
Just create an account, link it to your bank and you're done. Digit takes it from there.
I did have to re-enter a security question once a couple days after signing up and it's been working ever since. No big deal.
You will need your banks log in info and security questions to create an account.
Once you are signed up Digit will send you messages letting you know what your bank balance is, how much money Digit transferred to your savings account and what your Digit account balance is.
It's pretty cool to get these updates on how much you are saving without doing anything! (I've been checking my account like a crack head ever since I signed up!)
Where does the money come from?
Short answer: You.
Longer answer: Digit pulls a little bit of money (a few dollars) from your checking account every few days and puts it into a savings account that Digit creates for you. They use some fancy algorithm to study your spending habits and Digit only pulls amounts from your checking account that you won't miss or even feel.
What about security?
It's as safe as when you log into your bank account yourself. I know some people get weird about handing over their bank's log in info. I don't worry about that stuff. They use the same security procedures as the banks do so what's there to worry about?
Here's a quote from the Digit website about security…
Digit uses state-of-the-art security measures. Your personal information is anonymized, encrypted and securely stored. All funds held within Digit are FDIC insured up to a balance of $250,000.
Because I don't worry about my bank having my account info, I don't worry about Digit having that info either.
What if I save too much?
You have access to and can withdraw money from your Digit account anytime, 24/7/365.
I totally get worrying about withdrawing too much money (I was concerned about that too) but I also have to laugh a little… "Oh no! I accidentally saved too much money! I'm screwed!" haha, I can't imagine anyone saving too much money.
If you do "over-save" and need the money back in your hands, you can do that easily. Also, this will help ease your mind if you are worried about saving so much money you overdraw your account… (from the Digit faq's)
We believe so strongly in our math and our ability to safely identify money you can afford to save that if we overdraft your account, we'll cover the fee, up to two times per customer.
And one last thing, you can set a minimum account balance where Digit won't pull any money from your account at all if you dip below a certain amount.
Other questions you might be asking…
Is it free? It's free for the first 100 days and $2.99/mo after that.
Is there an app? Yes! iPhone and (working on) Android. UPDATE: Android app released!!
Does Digit work with banks outside the USA. No, not yet.
Do I need a savings account? No. Digit will create a savings account for you.
What should I do with the money? It's totally up to you. I'm using my Digit account as an emergency fund.
What are the transfer fees? ZERO! Digit allows unlimited transfers, with no minimums, and no fees.
What I really like about Digit is it proves that you can save money. When our Digit account got to $200 I was surprised. I didn't really miss the money or even feel that it was gone. But there it was. Can't argue with the facts.
Now you know how it works. Here's my progress so far.
(Keep in mind I signed up just a couple weeks before writing this review. I'll try to remember to update this post every now and then with new balances and anything else that might be interesting.)
The day after I signed up I logged into my account and saw this…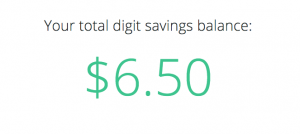 Cool! $6.50 just like that!
A few days later I saw this…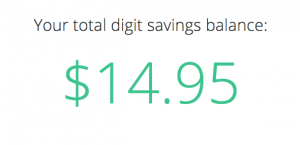 Awesome! $14.95 was saved automatically, I didn't even lift a finger.
It felt awesome to have some savings working for me that wasn't there before.
Update: Looky there! While I was writing this post I checked my account and…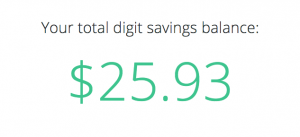 Update!: Good lord!!! I keep saving money!!!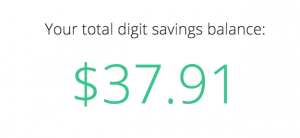 Is this going to save my financial life?
Uh, no.
Using Digit alone isn't nearly enough to fully fund your retirement. Not even close.
Personally, I think of Digit as a why not? kind of savings plan.
Using Digit is something to do above and beyond all the other types of saving and investing that you should also be doing.
And again, Digit proves that you can save money. So it's good for anyone who struggles to save. Digit saves for you.
Like I mentioned, I'm thinking about and using Digit as an emergency fund. In a few months when an unexpected expense pops up that we didn't plan for I'll look at my Digit account to see if I can cover it that way. If we do use the money from our account, it will start building back up right away!
Check out Digit for yourself.
Let us know what you think and if you are using Digit or some other auto-savings programs.
-Derek
---
*P.S. All the links to Digit in this post are my refer a friend link. I will earn a small commission every time someone signs up for Digit using my link. Thanks for using my link! As always, I don't promote stuff that I don't either strongly believe in or use myself or both. If Digit sounds like a good idea for you, go for it. If not, don't sign up.
---
P.P.S. UPDATE!!!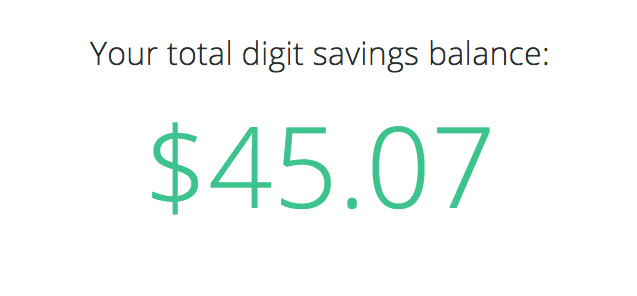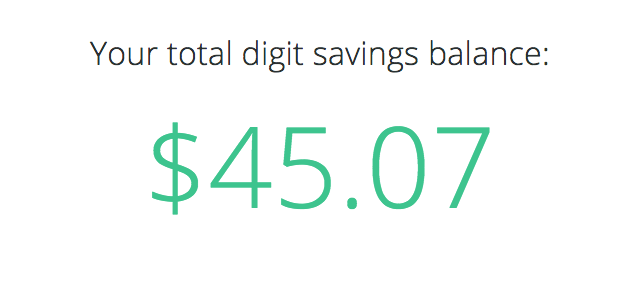 P.P.S. Update…. HEEEELLLOOO!!!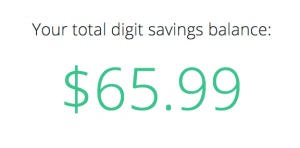 UPDATE: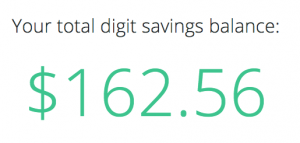 Up and Up!!