---
Managing your money together as a couple can be challenging. Carrie and I offer some tips from our book One Bed, One Bank Account for how to make the money conversations go smooth.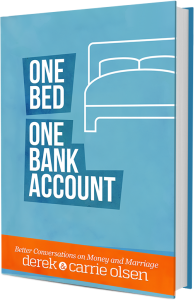 One Bed, One Bank Account delivers hope to married and engaged couples by offering an enjoyable framework for improving financial communication. Whether you're just starting out, in the middle of a financial crisis, or doing well, this book delivers a surprising and encouraging truth: Having better conversations on money will strengthen your marriage.
Check out One Bed One Bank Account on Amazon.com
"One Bed, One Bank Account will increase the rate of return in both your relationship and your bank account!" –Dan & Joanne Miller, 48Days.com
"I wish I would have read this book before I got married. Every couple needs to learn the art of talking about money, and Derek and Carrie offer a fresh perspective that the world needs. Get this book!" –Jeff Goins, Author, The Art of Work
"Derek and Carrie's approach on the topic of money and marriage is refreshingly different. An inspiring read for couples!" –Farnoosh Torabi, Author When She Makes More: Ten Rules for Breadwinning Women.
"There is NOTHING sexier than rockin' a budget with your partner, except for maybe doing it naked. Let Derek & Carrie encourage and inspire you with One Bed, One Bank Account." – J.Money, BudgetsAreSexy.com
---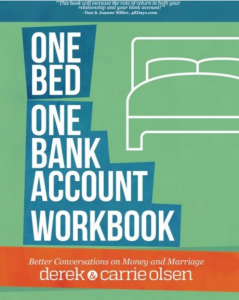 Having better conversations about money is a good start. This workbook will help turn your ideas into actions. Inside, you'll learn to:
Feel less stressed about money
Gain more confidence in your financial future
Understand each other better
Feel more connected as a couple
Become secure in your finances.
Along with the book, One Bed, One Bank Account, this companion workbook delivers practical tools you'll actually enjoy.
---